Entry 256 of 256
News Details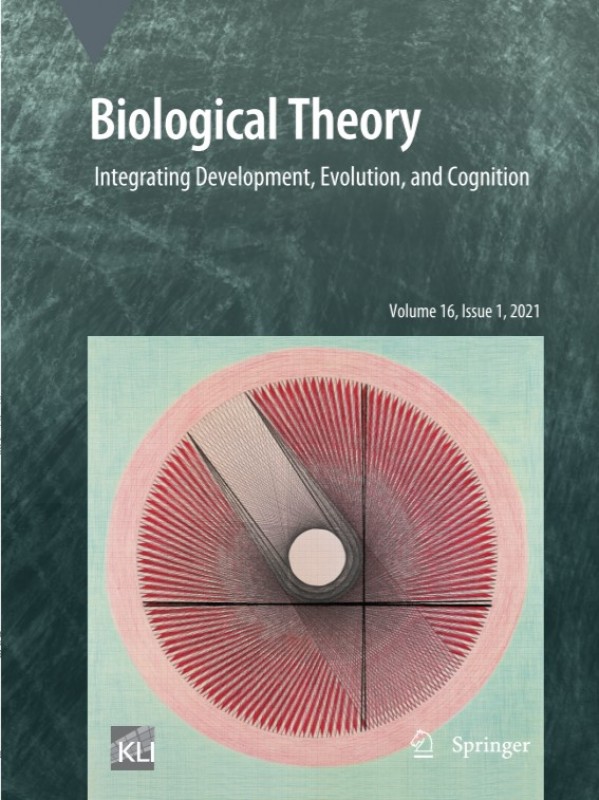 2021-06-01
June issue of Biological Theory
Biological Theory's June issue (16:2) is now available; access the table of contents and articles here on our website. It features articles on gesture as it relates to language evolution and a consideration of coercion versus altruism in the evolution of multicellularity, along with a debate about the "zone of latent solutions" in cultural evolution from Bandini et al. and Haidle & Schlaudt. It also presents the latest entry to our "Classics" collection: a reconsideration of Hans Böker's "Species Transformation Through Reconstruction: Reconstruction Through Active Reaction of Organisms," along with the German paper's first complete English translation.
Looking ahead, several special issues are in the works, including a thematic issue on "Evolution of Kinship Systems"–edited by Nicholas Evans, Stephen Levinson, and Kim Sterelny--with reports on the development and structure of human kinship patterns and language.
Our cover gives us space for a different kind of reflection on our basic mission as a journal—working toward a better understanding of the natural world. This year's cover art is Drawing No. 020 by Swiss artist and healer Emma Kunz (1892-1963). Kunz created her drawings with pendulums, using the patterns she perceived in the works to aid in her healing sessions. Kunz's abstract explorations were a means, she believed, of perceiving and channeling unseen forces in the environment. Further information about Kunz and her life and work is available at the website of the Emma Kunz Zentrum.