The KLI Labs provide an experimental space for alternative formats such as dissussion platforms, practice talks, feedback rounds for manuscript drafts, reading clubs, etc.
Event Details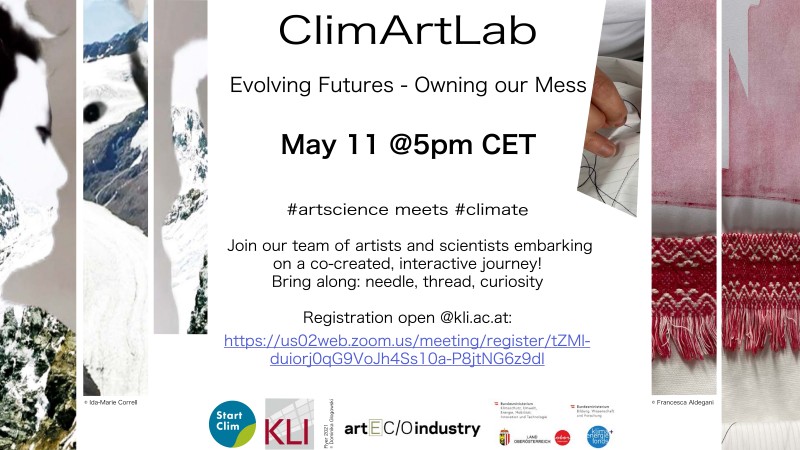 KLI Lab
ClimartLab: Evolving Futures by Owning our Mess
CLIMART Lab
2021-05-11 17:00
-
2021-05-11 19:00
Colloquium
Organized by KLI
Register in advance for this meeting:
https://us02web.zoom.us/meeting/register/tZMlduiorj0qG9VoJh4Ss10a-P8jtNG6z9dl
After registering, you will receive a confirmation email containing information about joining the meeting.
CLIMART Lab Opening
"The exhibit is the result of the arts-science project "ClimArtLab Project: Evolving Futures by Owning our Mess". It will consist of participatory live interventions based on art-science encounters. One installation and one performance will explore new ways of experiencing the intricate relationships that tie our lives to climate change through the Water-Energy-Food Nexus. They will also explore the impact of climate change on the nexus and consequently on human livelihoods. The embodied experiences aim to create motivation and agency for critical engagement and action to address climate change and are situated in our hybrid-cyborg lives at the intersection of digital and analogue, virtual and real. The audience will be invited to take part to experimental Zoom sessions where we will develop together new ways of understanding climate change. Bring along a needle, thread, and curiosity.
The two main installations/performances are:
HOMONEXUS (led by artist Francesca Aldegani and philosopher/cognitive scientist/musician Alejandro Villanueva) a participatory textile installation in digital and analogue spaces. The installation embraces an embodied and collective approach to cognition and motivation in relation to the cognitive and emotional challenges that climate change presents us with. We will use the traditional craft of embroidery as input for collective meditation and participatory change. No particular skills are required but your patience and the full attention of your senses.
GLACIER NEX US (led by artist Ida-Marie Corell and glaciologist/climate scientist Lindsey Nicholson) an embodied glacier performance that critically engages and interweaves glaciology and climate sciences with themes of personal and zoom identity, pandemic technocracy, patriarchy, disturbance, and social change.
If you want to learn more about the ClimArtLab and the people involved: https://kli.ac.at/en/the_kli/news/view/257"