News Details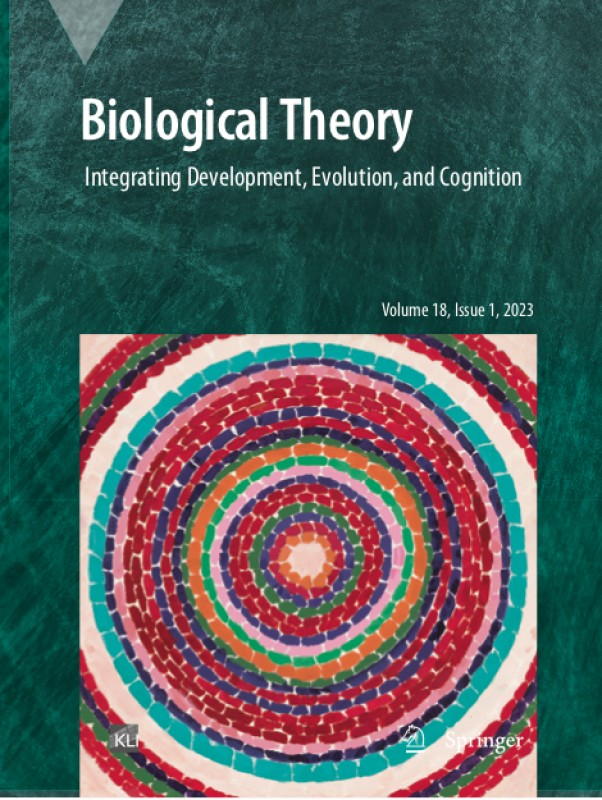 2023-03-13
Biological Theory's new March issue
In the March, 18(1) issue of Biological Theory, Timothy Brady explores the idea that developmental plasticity can complement random genetic mutation in providing selectable variation for phenotypic evolution when niche construction is taken into account. Also in the issue, Alejandro Gordillo-García argues for using more rigorous and systematic concepts of information, akin to those employed in genetics and organismal evolution, in theoretical approaches to cultural evolution.
Jake Keenan and Daniel McShea present the alternative of the Synergy Emergence Principle to the two conventionally acknowledged routes to discovery in the evolution of human behavior: directed problem solving and random trial-and-error. Key synergies in their framing include tool usage and interactions that reward cooperation. Harry Smit argues that an Aristotelian monism informed by the classification of causes due to the ethologist Niko Tinbergen, rather than the implicit Cartesian dualism of much behavioral research, is the best way forward in conceptualizing human nature.
The issue offers new entries for the fast-growing Classics and Critical Concepts collections. In his Classics article, historian Martin Kemp provides new insights into Leonardo da Vinci's theoretically informed depictions of muscle action, writing that Leonardo's work, unlike the medically oriented anatomical drawings by other artists of his time, can be seen as a forerunner of modern biomechanics. Reproductions of some of Leonardo's drawings accompany Kemp's commentary. In their Critical Concepts piece, Andrej Spiridonov and Shaun Lovejoy describe how the concept of temporal scaling can help understand the intrinsically hierarchical dynamics of taxonomic biodiversity at different evolutionary timescales.
The 2023 cover features the painting Pansies in Washington (1969, 127 x 121.92 cm, acrylic on canvas) by American artist Alma Thomas. Thomas (1891–1978), a member of the 1940s "Little Paris Group" of Black artists, and later of the Washington Color School, is best known for her brilliantly colored, patterned abstractions, many inspired by nature, space exploration missions, or her Northwest Washington, DC, neighborhood. (Image courtesy of National Gallery of Art, Washington, Corcoran Collection (gift of Vincent Melzac).)